Deposit "Foreign currency"
It is possible to open a deposit in USD or EUR currencies for an amount equivalent to up to 100,000 per UAH month only in the FUIB Online mobile application for more
favorable rate
than cash.
For to open a deposit, you must have a card in the currency of the deposit and a card in UAH.
The opening of the deposit "Foreign currency" is available every weekday until 4:00 p.m.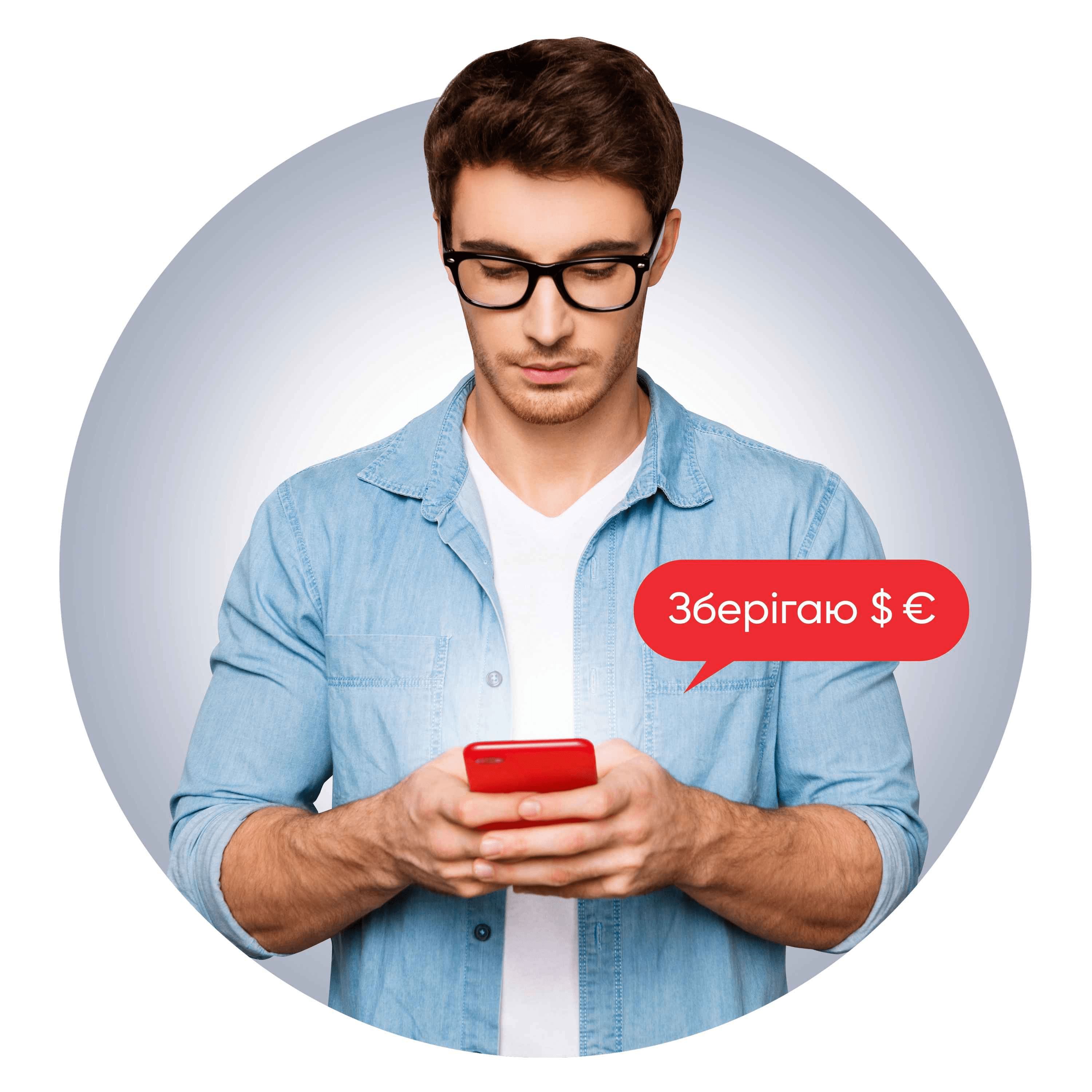 Minimum amount
from 100 USD/EUR
Payment of interest
We pay to the card every month
Download the FUIB Online mobile app and log in Diya.
Scan the QR code and download the app:
Or leave an application, we will call you and provide detailed information.
Open a deposit Online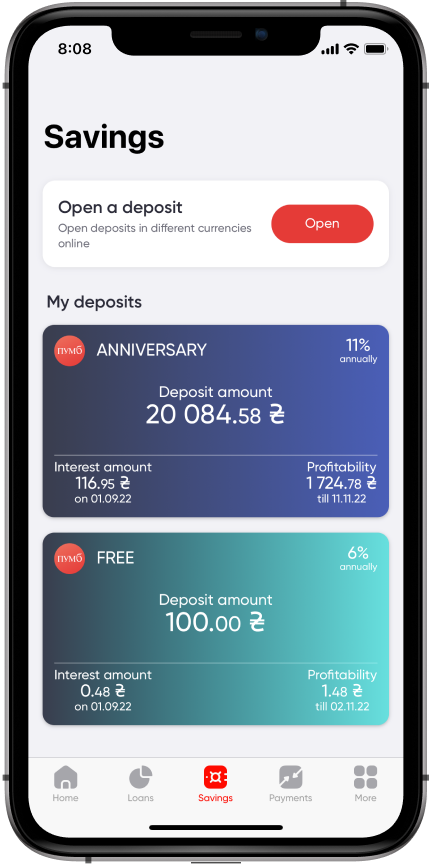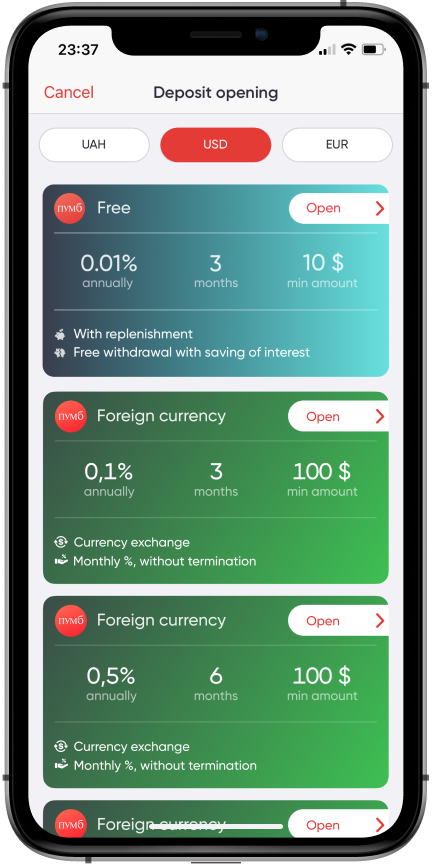 Select currency and deposit "Foreign currency". Click "Open"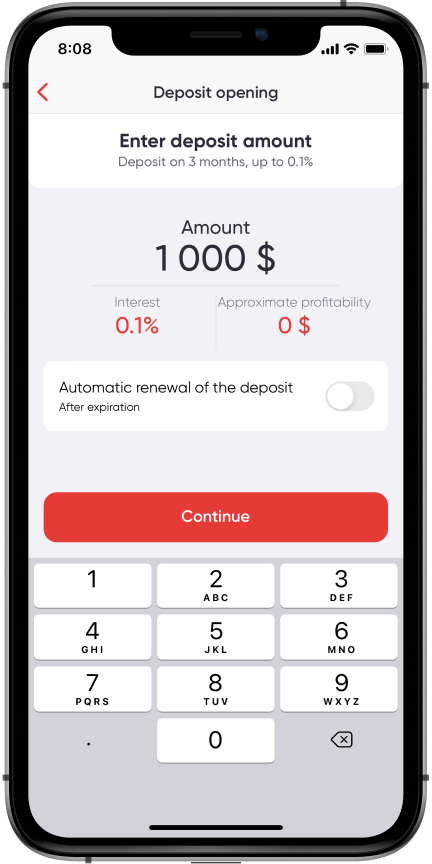 Enter the amount of the deposit, click "Continue". On the next screen, enter your email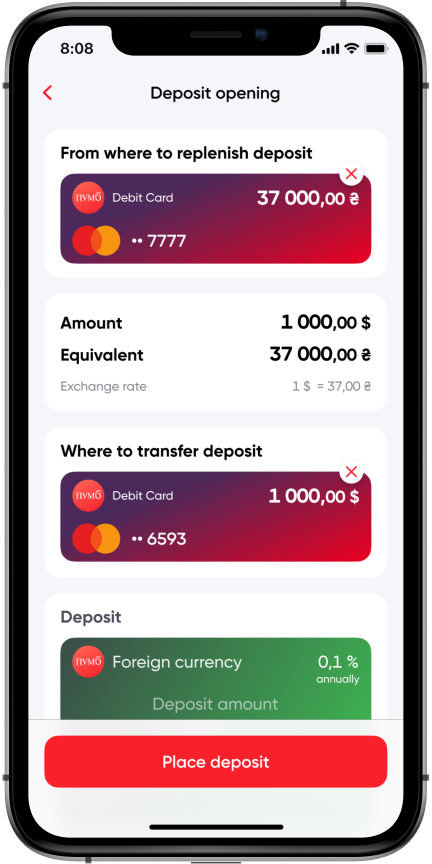 Choose a UAH card from which the currency exchange will be made and a card in the currency on which the deposit and interest will be credited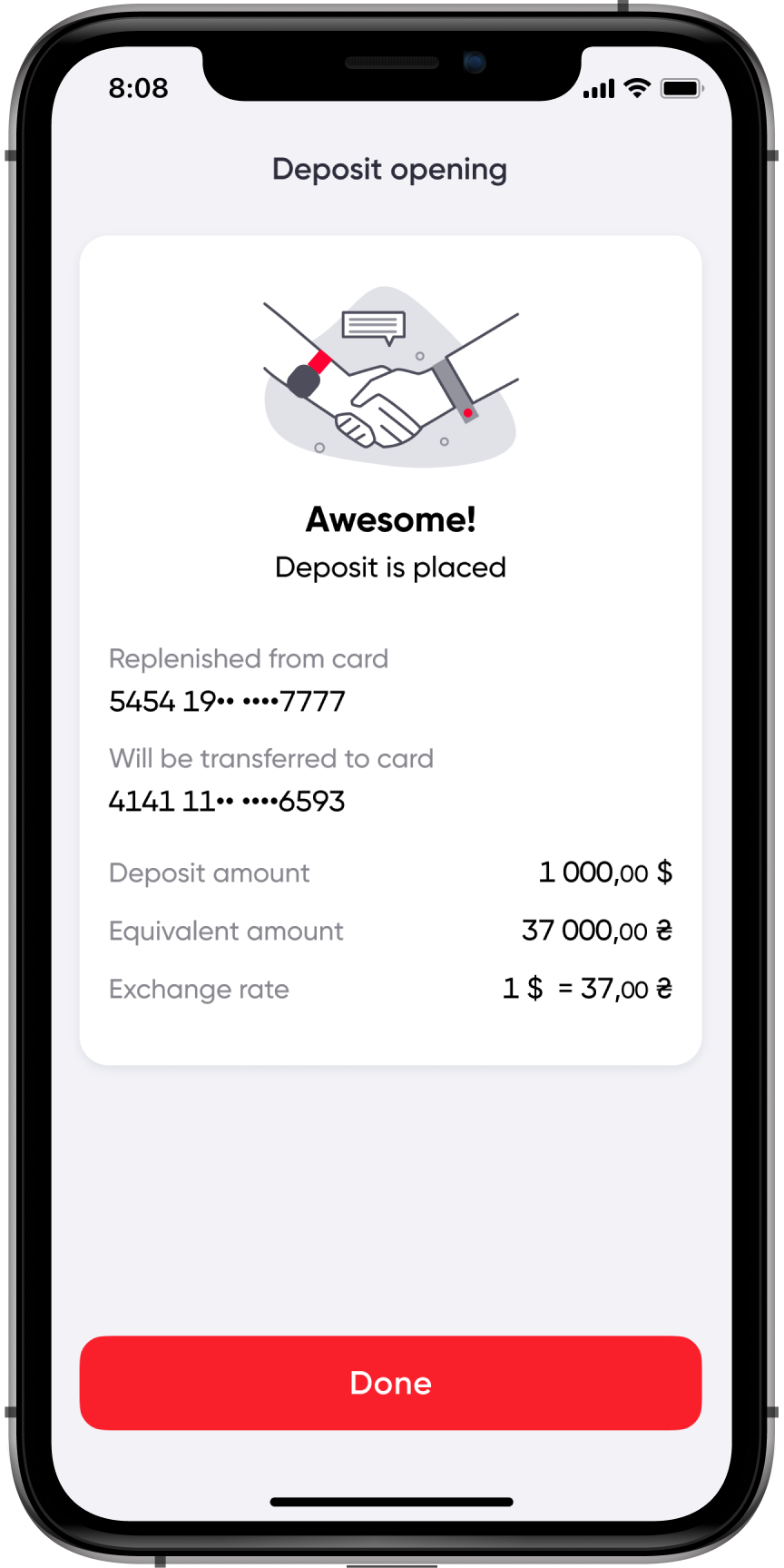 After opening the deposit, you will see a message about the successful opening
The deposit interest rates
Deposit currency
Exchange rate when opening a "Currency" deposit in the mobile app
The deposit term
Interest payment
On your FUIB card monthly
Partial withdrawal
Not provided
Deposit payment
On your FUIB card
Auto prolongation
Not provided
Replenishment
Not provided
Early termination
Not provided
Our managers will help you with the choice of deposit
Call for 2 minutes
FUIB is a reliable bank for saving your savings
Reliable bank
for 30 years
For 30 years, we have never canceled deposit payments or any other payments. FUIB has the highest (rating "5") deposit reliability rating3
authorized to store cash reserves of the National Bank of Ukraine
80%4 of customers
resubmit their deposits at FUIB
TOP-55
FUIB is in the TOP-55 banks in terms of the size of the deposit portfolio of individuals in UAH
Bank №1
in terms of growth
FUIB ranks 1st place in terms of growth in time deposits of individuals in UAH6
3According to the data of the rating agency "Credit-rating" as of September 28, 2022.
4 Information as of 01.11.2022 according to the bank's official statistical data.
5Information as of 01.09.2022 according to statistical data of the NBU official website.
6Information as of 01.01.2022 for the period January - December 2021 according to the statistical data of the official NBU website.
Our managers will help you with the choice of deposit
Call for 2 minutes
1The stated % rate before taxation on the "Foreign currency" deposit in USD for a period of 91 days.
2Within a period of 3 months. refers to placing a deposit for 91 days.
JSC "FUIB" Govt. Register. of banks No. 73 dated 12.23.1991 NBU banking license No. 8 dated October 6, 2011.